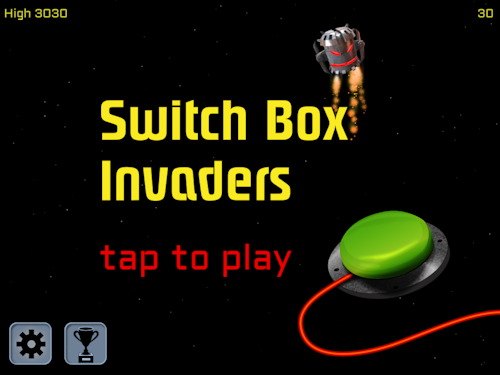 Switch Box Invaders was created for and with young people who use assistive technology switches to control the iPad. The game is a motivational means of developing and improving sequencing, timing and basic switch control skills.
The latest iOS release supports newer iPhones and iPod Touch. The app has also been ported to Windows and OSX as freeware.
Switch Box Invaders can be controlled with a single switch connected using Bluetooth, Lightning Port or USB switch interfaces – on Windows and OSX desktops Neurosky Mindwave is supported for eye blink control. On iOS the game can also be played by touching any part of the screen with a hand or arm etc. Apple Game Center support for Achievements, Leaderboards and Challenges is included.
All iOS Bluetooth and Cabled Switch Boxes are supported!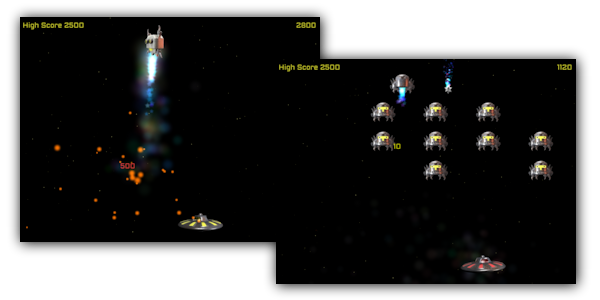 ---

For over a hundred free switch accessible Windows games go to OneSwitch
---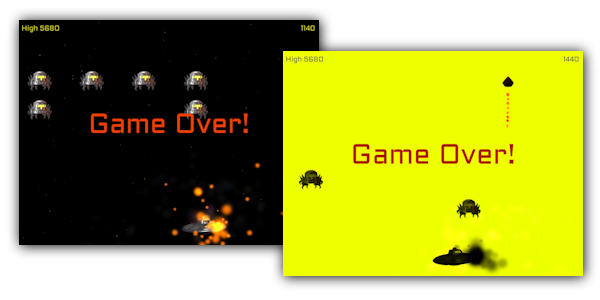 ---
Speed of gameplay can be adjusted to suit slower players and switch boxes and an optional high-visibility mode is provided with clearer graphics.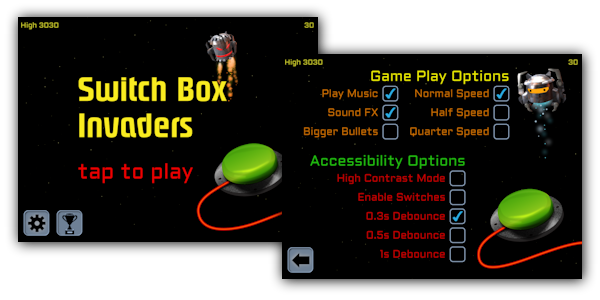 ---
Recommended Switch Interfaces
I generally recommend the Pretorian (Bluetooth/Wireless) product line or Tapio (Wired) since they are both relatively inexpensive and well made.
The cheapest available commercial switch interfaces are based on AirTurn's hands-free music page turners; generally if you buy these from a music shop you'll find they are less than half the price of the same interfaces when sold by special needs equipment suppliers. In the US you can buy from AirTurn direct, in the UK the new AirTurn BT-106 DIGIT, which includes a keypress mode selection button on the front, is around £50 from Bax and works with all standard switches – supporting two by default. With a 3.5mm audio cable splitter (stereo to mono adapter) you can use these interfaces with four switches for more effective iOS Switch Control.
If you're technically minded you can build your own 12 switch Bluetooth interface based on ADA Fruit's EZ-Key for less than £50 including battery/charging board and a tidy enclosure.
iOS Switch Control Mode
Tap controls the game – set your Launch Recipe to Tap Middle of Screen
A Three-Finger Touch quits early.
The options menu inside the app doesn't support scanning – but there's a duplicate options screen in the main iPad Settings which does.
When you are using iOS Switch Control, leave the 'Legacy Switches' option disabled in Switch Box Invaders settings – this option is there just to provide legacy switch box support
iOS Legacy Switch Access
Even with Switch Control disabled on your iPad, you can still use any switch box which sends keypresses to play – or you can press actual keys on a connected keyboard. Make sure 'Legacy Switches' is ticked on the game options screen.
If your switch box has multiple settings, check the manual and choose a mode/profile which sends Space, Enter or any alphanumeric character. eg:
Pretorian Simply Works – Mode 7, Mode 8, Mode A or Mode B
Pretorian APPlicator – Any Mode from 0 through to 8
Pretorian Switch2Scan – Use Quick Access Mode
Ablenet Blue 2 – Mode 1, Mode 2 or Mode 3
Cicada Firefly – Mode 5
AirTurn BT 105 – Profile 2 and Profile 4
AirTurn DIGIT (BT 106) – Profile 2 and Profile 4
Tapio – RJ Cooper, Tapio, Rich or Keyboard Modes
Use these Bluetooth Switch Boxes with their default settings:
iSwitch
Therapy Box Switchbox
All ILT Switchboxes
RJ Cooper BSI
RJ Cooper BSS
Attainment BSS
All Enabling Devices Switch Boxes
J-Pad Joystick
Spectronics Switchbox