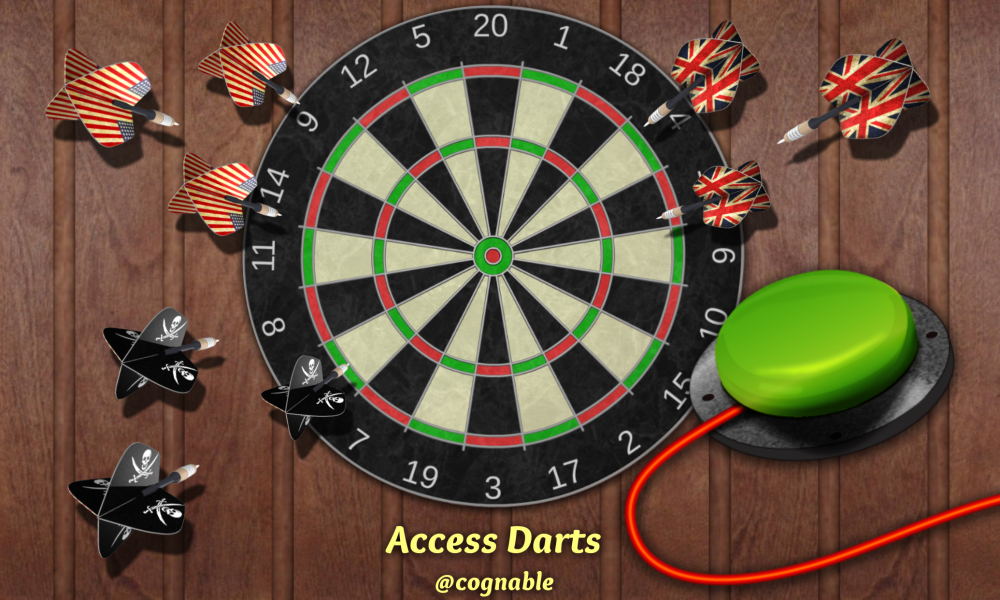 26th October 2017
—
simon
Access Darts is a switch accessible darts game for iOS 9.0+ (Universal) – it includes a full audio overlay for visually impaired players.
Was more than a little chuffed to get an asset usage request for Access Darts from Apple in May for WWDC 2017
Access Darts began as another single switch trainer game – the mathematical requirements of play will hopefully allow some use in schools. It supports legacy/direct switch control (which still seems dominant despite amazing native iOS support) in addition to Tap to Play for touchscreen and iOS Switch Control.
I've added iOS Game Center for Challenges but there's no peer-to-peer play yet. Two players games are possible on the same device in addition to the AI opponents provided for single player games.
The 5th update is now available on App Store – 1.5 includes choice of text-to-speech dialects, speed control, better help and a lower speeds after a slew of useful feedback from the AppleVis community. A freeplay mode is included on Barrie Ellis' suggestion – to allow a better range of games and for virtual play alongside a real dartboard down the pub.
The app also includes a sound switch using device microphones which allows play and navigation using vocalisations…. or whistling for budding Yondus. With microphone gain on high it's possible to control the game with most sounds – normal mode listens for sounds in the vocal range.
As the game required its own scanning interface for legacy switch and I'd already included text-to-speech for commentary, I decided to add a few more features in an attempt to make it accessible to blind players. It now includes a Sonar which provides tonal cues and additional spoken prompts – play testers are positive so far and scoring on a par with sighted players.
I've only ever seen an Audio Darts setup once in the UK, but I'm reliably informed they're fairly common and popular in the US. There's at least one UK VI pub team playing with a standard board, so hopefully there will be a small audience here at least.